JIN & SEETAL LIVE BOLLYWOOD SINGING
Jin & Seetal are popular Bollywood & Bhangra singers in the Birmingham area providing live vocals with backing tracks for weddings, birthdays, dinner parties and corporate events. With their professional bespoke Bollywood backing tracks they can make any occasion one to remember as they perform across the UK and beyond. 
Not only are they award winning Bhangra artists with numerous albums and chart successes to their name, Jin & Seetal are accomplished singers who can sing in Punjabi, Hindi and Urdu. 
They have had a lot of experience in singing and entertaining people at Asian weddings and are well known as some of the most charismatic entertainers on the Asian music scene at the moment. 
Jin & Seetal bring their own professional state of the art PA equipment and the setup of the equipment is quick and visually appealing. 
The duo have been singing professionally since 1999 and in that time they have toured the world with their Punjabi songs which have appeared on various local and mainstream television channels. 
Music is their passion and they specialise in all Bhangra and Bollywood songs ranging from golden oldies to the latest hits. 
Our live band set consists of 90 minutes of pure live Bhangra entertainment in which we sing the most popular Wedding and Ladies Sangeet songs, as well as covering classic Bhangra songs of your favourite artists from years gone by.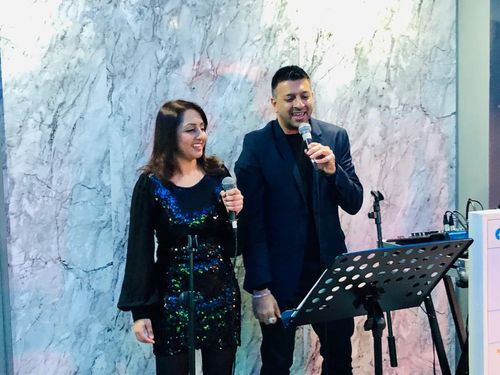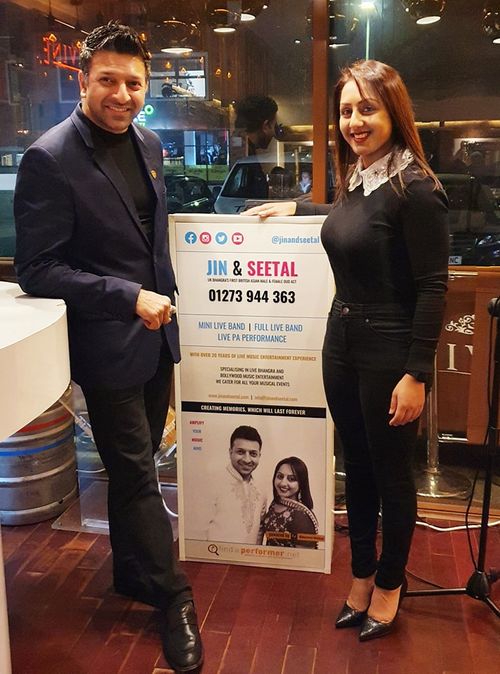 JIN & SEETAL SINGING AAO HUZOOR TUMKO SITARN ME LE CHALOON
Here is Seetal Kaur singing for a lovely family in Birmingham the Bollywood song "Aao Huzoor Tumko Sitaron Me Le Chaloon" from the film "Kismet".
JIN & SEETAL SINGING JAB HUM JAWAN HONGE
Here is Jin & Seetal singing for a lovely family in Birmingham the Bollywood song "Jab Hum Jawan Honge" from the film "Betaab".